Our highly trained staff is handpicked by Dr. Shemesh to provide expert service in Nutritional Therapies, Herbal and Nutritional Supplement Guidance, administration of Intravenous Nutrition and Chelation, individual and group Yoga and stress management, Craniosacral and other therapeutic massage modalities. Other select complimentary medicine therapies such as acupuncture, chi gong, mind-body medicine, Reiki, Emotional Freedom Technique (EFT), and Energy/vibrational Medicine are provided by arrangement with select practitioners.
About: Our bright and shiny Michelle, and her love of healing makes her such a beautiful pillar of experience here at Mind Body Spirit Care. She has over 30 years of experience in various forms of women's health from Midwifery to Natural Bio-Identical Hormone Therapy. Michelle began her career in 1986 and ignited her appetite for healing others when she graduated with honors with her BSN in Nursing, from Western Carolina University. During her time in the Air Force Nurse Corps, she became interested in women's health and became an OB nurse, manager, and educator. In 1997, she graduated from Georgetown University with a Masters in Nursing, specializing in OB/GYN and midwifery. As a midwife, she dedicated her life listening to women, ensuring her patients made the best decisions amidst the plethora of often confusing choices for their own individualized care.
Her passion for dedicating herself to listening to her clients enabled a transition into bio-identical hormone therapy, thyroid management, and adrenal health to address the many similar complaints from which her clients suffered. Most of her clients simultaneously complained of fatigue, mood swings, weight gain and hair loss, and it became her mission to help her clients ease these distresses and balance their health. So in 2011, she began studying Bio-Identical hormone replacement therapy and natural hormone pellet therapy and joined Dr. Shemesh and Mind Body Spirit Care with a desire for a comprehensive integrative medical approach to ease her clients' symptoms.
Michelle also offers cosmetic procedures to help her clients look as vibrant on the outside as they feel on the inside. Michelle's clients benefit from her client empowerment with holistic knowledge on rebalancing thyroid and adrenal issues naturally with supplementation, and she also offers Botox and facial fillers such as eyebrow lifting, restoring cheek volume, and one of her personal favorites, Silk, which restores lips back to their luscious youthful state, all while still maintaining a very natural appearance. Michelle also offers a non-invasive 15-minute out-patient laser vaginal rejuvenation procedure to help women relieve symptoms including incontinence, dryness, painful intercourse and menopause.
Michelle's ambition is improving her patients' quality of life, a multi-layered process. Not only is she passionate about naturally balancing or replacing hormones, slowing down the aging process, preventing disease, and patient empowerment, but she also helps her clients to look as good as they feel! We here at Mind Body Spirit Care are so happy to have a tuned-in healer like Michelle helping our medical staff assist both male and female patients to feel their best, inside and out.
About: Meet Dr. Michael Majette, he is a chiropractic physician and ergonomic specialist with over 20 years of experience. He has a true passion for improving patients' quality of life by providing personalized, comprehensive treatment protocols and help protect your overall spinal health and prevent future complications.
Dr. Mike has a refreshing patient-centered approach, that has successfully helped thousands of patients of all ages and medical backgrounds. This has been a very successful approach to overcome pain, improve your posture, and achieve your desired health goals. He is considered a trusted expert in treating spinal injuries and other muscle skeletal injuries. He has extensive knowledge of how everyday activities and technology use can negatively impact your spine and he offers effective solutions.
Dr. Mike's treatment regimen seamlessly aligns with our practice's core values to empower individuals, ensuring speedy healing and optimal health and overall wellbeing.
Most importantly, his level of dedication and compassion for patients is why we believe you too will feel refreshed and empowered after each treatment.
Be sure to ask him to suggest the best, innovative tools to sustain healing, prevent pain and discomfort and reduce the need for surgery to achieve optimal health.
Cathy Heideman
APRN, MSN, Dipl Ac.
Nurse Practitioner
Education:
Syracuse University, BSN, 1979
Simmons College, MSN, Primary Care 1988
Jung Tao School of Classical Chinese Medicine, Dipl. Acupuncture 2011
About: Cathy Heideman has been a board certified nurse practitioner of adult health since 1988 and practiced allopathic primary care for years in the greater Boston area, New Mexico, Virginia and Washington, D.C. She began to realize early in her career that while our allopathic (traditional) system of medicine and illness care has much to offer, it is limited, and many patients continued to be ill after standard treatment options were exhausted. Since then she has actively pursued the addition of safe, complementary and integrative options into her practice. She studied herbalism with Rosemary Gladstar in the 1990's and continues to include supplements, herbs, and homeopathic remedies in her treatment plans. As often as possible, she follows Hippocrates' simple rule, "Let food be thy medicine and medicine by thy food."  Hippocrates is also credited with the quote, "Wherever the art of medicine is loved, there is a love of humanity." Cathy strongly believes that is true and practices the art she loves with passion.
Cathy has 12 years of experience in aesthetics including dermal fillers and neurotoxin injections (i.e. Dysport and Botox), facial PRP, and facial rejuvenation. She knows it helps people feel better when they look better.
As a Nurse Practitioner, Cathy looks for the root causes of chronic diseases, including chronic fatigue and fibromyalgia. Cathlene Heideman is licensed to provide a full range of health care services for adults including ordering and interpreting diagnostic tests, diagnosing and treating acute and chronic conditions, prescribing medications, supplements, treatments, managing overall care, and educating patients on disease prevention, diet and other positive lifestyle choices.
Johanna Lancaster
Nurse Practitioner
About: Johanna Lancaster is a certified nurse midwife and women's health nurse practitioner with a Master of Science in Nursing from Georgetown University, Washington, D.C. and a Bachelor of Science in Nursing from Wayne State University, Detroit, MI. Johanna was born and raised in Germany and moved to the United States in 2009.
Johanna began her professional life in Germany as a photographer, following that field to post-graduate education and work in Scotland and later an adjunct professorship in the United States. However, after witnessing a birth to an indigenous teenage mother in the Amazon jungle and her own experience giving birth twice with the help of midwives, Johanna decided to pursue a new-found passion in women's health, becoming a labor and delivery nurse after 16 years in photography and arts. Since graduating from her dual master's program she has been helping women deliver babies in the safety of her patients' homes and leading a holistic women's clinic in Tampa.
As a nurse practitioner Johanna is especially interested in nutrition (food is medicine!), gut health, the microbiome, thyroid, adrenal and sex hormones, the menopausal transition and how to best support hormonal balance for improved health, vitality, and longevity.
Johanna's prioritizes providing all her patients with the tools and knowledge to make truly informed choices, improving and maintaining optimal health, and promoting wellbeing and joy throughout life. By helping her patients reclaim their health, she hopes to empower their families and entire communities to live their healthiest and happiest lives.
When Johanna is not helping patients be their best self in the clinic or catching babies, she likes to play with her two kids, spend time with her husband, and enjoys yoga, traveling, hiking, biking, and anything outdoors.
Dr. Sabrina Uy-Hwang
Dipl. O.M. (NCCAOM), AP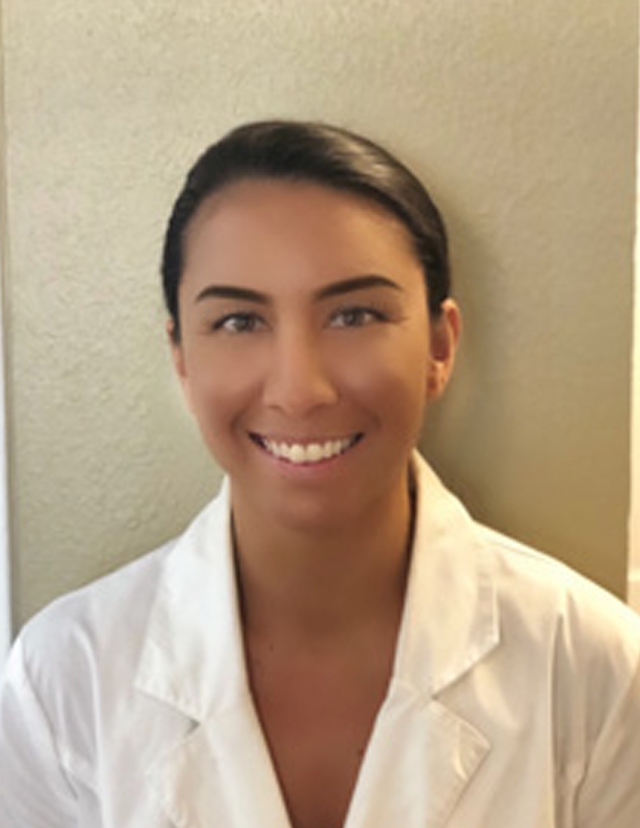 About: Sabrina Uy-Hwang is an Acupuncture Physician and Chinese herbalist supporting patients in leading healthier, happier and fuller lives. She is a biology graduate of Maryland University, College Park, MD and holds a Diploma in Holistic Health from the American College of Healthcare Sciences in Portland, OR. She received a dual masters in acupuncture and Oriental Medicine from Maryland University of Integrative Health in Columbia, MD and is board certified by the National Certification Commission for Acupuncture and Oriental Medicine (NCCAOM).
As a general practitioner, she enjoys working with a broad spectrum of conditions including pain management, sports medicine, OB/GYN, fertility, gastrointestinal disturbances, mental health and addiction. While Sabrina treats both acute and chronic conditions, her focus is on treating the whole person and ultimately, preventative care. Sabrina values collaboration with other healthcare professionals when needed and feels strongly about the integration of Chinese medicine, nutrition, fitness and patient education. By providing time-proven holistic methods that prompt the natural ability of the body to heal, Sabrina is committed to helping her patients achieve optimal wellness, balance and vitality. Through this integrative approach she hopes to support others in their journey, with the highest level of care and compassion, wherever they are in that process.
Sabrina is a former in-house acupuncturist for the Kolmac Clinic, Pulling Down the Moon, Nava Health and Vitality Center and The Wellness Center at Shady Grove Fertility serving patients by improving their overall health and wellness. Sabrina is passionate about Chinese Medicine, learning and traveling. She loves to cook, eat, workout, laugh and spend time with her loved ones. Sabrina has a special affinity to the sun, ocean and plans on one day retiring to the islands.
Dr. Zonglan Xu
Acupuncture Physician
About: Dr. Zonglan Xu is a National Board certified and Florida State licensed Acupuncture Physician. She graduated with a MD degree from Shandong University of Traditional Chinese Medicine in China in 1982. Since then, she has been a devoted educator and practitioner in the Acupuncture and Traditional Chinese Medicine field and has taught and lectured in China, the United States and Canada. She has been practicing in Miami area for nearly 30 years.
She has published numerous articles and papers on Acupuncture and Chinese Medicine in China. Her two unique publications, the Pocket Handbook of Chinese Herbal Medicine and the Pocket Handbook of Chinese Herbal Prescriptions, were published in the United States in early 2000. Practitioners and students of Acupuncture and Chinese Herbal Medicine around world have received them with great satisfaction.
She served as an examiner for both National Board certification and State Board licensure exams. She also held the position as the President of the Florida Acupuncture Association and maintains her outstanding membership. Based on her strong eastern and western medical educational background, clinical practicing experiences, as well as her enthusiasm and care to patients and profession, she was appointed to be a member of the Florida State Board of Acupuncture by the Florida Governor and served from 2002-2010, including chaired the Board for three consecutive years. In 2013, she was elected to be a professional member of Board of Commissioner for National Certification Commissioner for Acupuncture and Oriental Medicine.
Dr. Xu is highly experienced in using comprehensive approaches to treat a wide range of conditions with excellent results. She is very enthusiastic about Integrative Medicine, which She truly believes it is the best for the people-centered health care. Her area of specialty includes: neurological and muscular disorders, acute and chronic pain controls, internal medicine, gynecological disorders and menopause, infertility and IVF assistance, insomnia, depression/anxiety and stress managements, migraine, sinusitis, allergies and addictions, etc. Her extensive clinical techniques include: acupuncture, Chinese herbal medicine, moxibustion, auricular therapy, electrical stimulations, TDP/infrared heating therapy, cupping, massage, acupoint injection therapy, homeopathic medicine and nutritional supplements.
Personal statement to her patients: The patient deserves the best. I treat all my patients as they are my family members. The most rewarding feeling is when they tell me "I am feeling so much better."
Dr. Jennifer Torres
Acupuncture Physician
About: Dr. Jennifer has been a licensed acupuncturist since 2013. She received her BA in Psychology from St. Leo University, then her BS in Professional Health Studies, followed by her MSOM from the Florida College of Integrative Medicine in December 2012. Since 2013, she has worked with a variety of patients ages from 1 to 91 and is experienced in treating a wide variety of physical conditions including pain, digestive disorders, fertility issues, and allergies. After a decade of practice, she finds herself drawn to working on more energetic issues such as PTSD, unresolved grief, psycho-emotional pain, and trauma incorporating yogic principles into acupuncture sessions. Dr. Jennifer has additional training in advanced cupping techniques, acupoint injection therapy, Microcurrent Point Stimulation (needle-less therapy), auricular therapy, Mei Zen aesthetic acupuncture, and two styles of yoga. She is currently studying esoteric acupuncture for spiritual advancement.
She enjoys using acupuncture to fast track people into a meditative state and move energy that is stuck, either unconsciously or consciously, then add yoga routines to teach students how to consciously move energy and process experiences. Her method of incorporating multiple healing techniques allows energy to move through the student in a healthy way; in ways that don't leave their spirit injured or hurt.
Growing up in a bilingual home and living in both Spain and Mexico, Dr. Jennifer learned how to speak Spanish fluently as well as gain a clear understanding of cultural differences and needs of different groups. Believing that compassion and clear communication are the foundations for building trust with a practitioner, she seeks to be informed on as many cultures as possible. Hoping to add ASL to her repertoire, she studies ASL from instructors who are deaf of CODA with the intention of being accessible for more communities.
When not consuming additional classes or books to advance her skills, Dr. J enjoys painting, crocheting, connecting with nature, and playing with her pets, which include two dogs and a jumping spider named Pearl.
Anat
Director of Therapeutic Yoga
About: Anat began her study of yoga in 1995 and is a registered yoga teacher with the Yoga Alliance E-RYT 500. She has traveled extensively to study with many yoga and meditation teachers around the world and has incorporated different healing modalities into her teachings. Anat has extensive experience practicing and teaching Yoga and Yoga Nidra to individuals, health clubs, schools, and corporations. Her album titled Yoga Nidra for Stress Relief & Deep Relaxation has sold hundreds of copies.
Becoming a meditation facilitator has deepened Anat's purpose as a teacher. Her goal is to make meditation feel approachable and practical. During class, you will feel Anat's breadth of knowledge as she taps into an array of meditative practices, such as guided work, mindfulness, lovingkindness, body scan, and visualization. She wants her students to be able to take the lessons they learn from class into their daily lives.
She is the director of the therapeutic yoga program at Mind Body Spirit Care Medical Center and teaches a weekly yoga class in our Carrollwood location for patients. In her free time, Anat shares her delicious home-cooked food recipes and highlights Tampa restaurants on Instagram under the username @foodbymamaa.